Change your manufacturing game, don't settle for average!
Making Traceability a First-Class Citizen.
Manufacture & Sell with confidence
Know exactly what's happening and where at all times with no exceptions, get complete visibility into your supply chain at your fingertips.​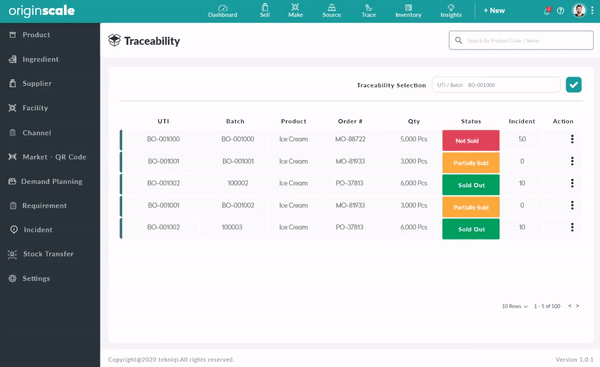 Take charge of your supply chains, with complete visibility into your operations across suppliers, manufacturers, warehouses, marketplaces, and others. All in one place.
Track & Trace critical supply chain events both backward and forward
Proactively manage safety and compliance issues
Initiate Recalls and Withdrawals instantly
Manage Suppliers, Contract Manufacturers, Third-parties & regulators all in one place
Purpose-built platform for purpose-led brands
Manufacture and sell with confidence, get complete transparency across your product-making & selling journey.
Unlock your brand value, give your customers the transparency they need. Increase customer engagement, command premium pricing & create a unique brand identity.
Don't rely on others, go direct to your customers
Sell direct to anywhere, all from one place
Be where your customers are - D2C, Marketplaces, Wholesale, Retail, and much more.
360-degree cross-channel insights
Build direct 1:1 relationships with your customers
Manufacturing made simple
10 X your throughput with automated & intelligent manufacturing
Intelligent Manufacturing through smart automation
Integrated manufacturing & sales - manufacture exactly what sells
Onboard all manufacturers & suppliers on a single platform
360-degree view of your manufacturing and sales operations
Sustainable Manufacturing -Cut Waste & Minimize Environmental Impacts
Engage with your customers
Millennials drove brands to be purposeful, but Gen Z are demanding proof. Are you ready for the challenge?
Stop paying commissions to resellers, marketplaces, retailers and others. Own your customers by going direct to them, bring them back to your channels.
Build a loyal customer tribe around your purpose and your customers value. Turn them into your brand ambassadors
Create unique brand identity, around trust by providing transparency that the customers need and showcasing your purpose
Command premium pricing authoritatively by clearly articulating your brand proposition backed by data
Every product has a story, flawlessly communicate your purpose to your customers. Build long-lasting relationships
Connect Physical & Digital Channels
Connect your digital and physical channels, whether you want to go direct to customers or bring online customers offline we have got you covered.