Manufacture & Sell with
confidence
Know exactly what's happening throughout your product making & selling, all in one place.
Win more customers, give them the transparency they always wanted.
Get end-to-end Traceability
Cut time and money by half, double your supply chain efficiencies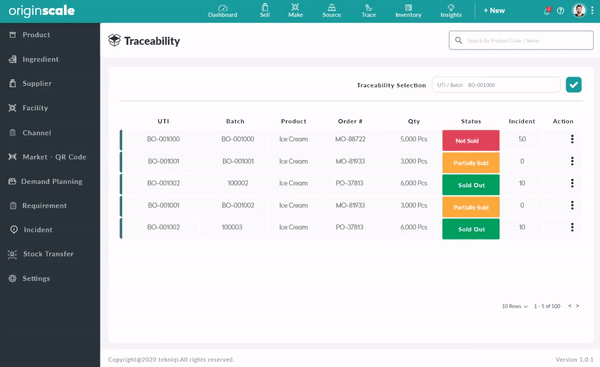 Know exactly what's happening and where at all times with no exceptions, get complete visibility into your supply chain at your fingertips.​
Manufacture & Sell

Direct to anywhere
Go direct to your customers & scale sustainably at speed
Manufacture & Sell direct to customers
Increase profitability, ditch marketplace commissions
Sell across multiple channels all from one place
Know your customer, build a loyal tribe
Ecommerce
Wholesalers
​Marketplaces
​Resellers
Manufacturing made simple
10 X your throughput with automated & intelligent manufacturing
Intelligent Manufacturing through smart automation
Integrated manufacturing & sales - manufacture exactly what sells
Onboard all manufacturers & suppliers on a single platform
360-degree view of your manufacturing and sales operations
Sustainable Manufacturing -Cut Waste & Minimize Environmental Impacts
Originscale follows intelligent Automation first strategy, that learns by itself and goes beyond If Then Else. It leverages advanced AI based automation that works 24X7 to find opportunities to cut costs, boost sales and increase profitability.
Connect your physical

& digital
channels - market better, magnify profits
Closing the gap by connecting physical and digital channels, and provide customers the data they are looking for.
Scale your business with AI powered deep insights to
boost your sales & increase profitability.
Boost your margins, bottom line, and organizational efficiency with obsessively detailed data on every individual SKU and operation. Combined with our predictive analytics, you can forecast your growth with total clarity and confidence.