Making Traceability a First-Class Citizen.
At Originscale traceability is not optional and it comes by default. We use blockchain technology to track and trace key critical events of your products and ingredients at the batch-lot level and provide real-time actionable insights along with a visualization tool.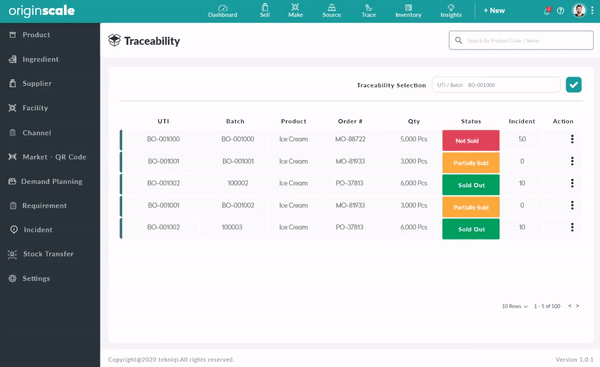 Actionable Insights at ingredient & process level
Actionable data-driven insights
Gain deep insights into the supply chain and identify inefficiencies in real-time. Analyze in seconds where and how your product is spending time, average dwell time, time-since-production, production velocity, and much more.
Bring transparency into your supply chain
Trace your products in a matter of seconds. Bring transparency into your supply chains by providing access to all stakeholders. With Originscale you can effectively manage traceability of product and its safety across your entire supply chain including third-parties.
Trace your products from source to you in seconds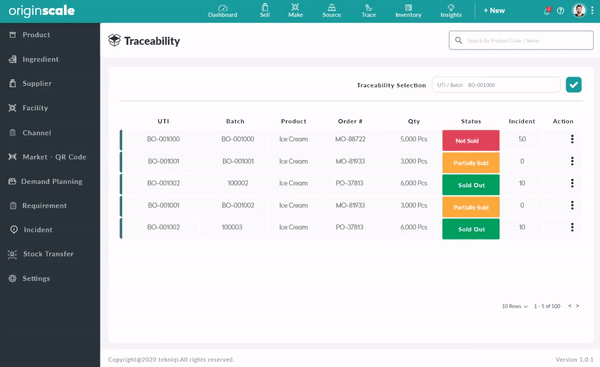 Visualization tool
Multi view Traceability
Batch/Lot level Traceability
Stitch together the Critical Tracking Events of your products to get real-time visibility of your product lifecycle in the supply chain with exact dates & timings.
Through originscale, gain visibility into upstream & downstream data flow using intuitive multi-view traceability.
Access the critical tracking events of your product batches & lots on your fingertips with super ease.
Powered by Blockchain-based technology, Originscale, helps you precisely investigate quality issues
Investigate quality issues instantly
When a product safety or a quality issue occurs, you can simply create an incident and start investigating the issue right at the batch/lot level to identify the root cause. In a matter of seconds, you could initiate recalls or withdrawals based on the outcomes.
Marketing: Think beyond safety!
Safety is paramount, but with Originscale, you can also market traceability to your customers by bringing the real supply chain information e.g. where the product came from to your customers through the use of QR codes and customized landing pages. This has a direct impact on a brand proposition by inducing trust & transparency thereby not only leading to the creation of a genuine marketing narrative that will attract more customers but also creating a long-term brand value.
Follow every step of Rawbana's vitamin gummies complex journey through the lens of traceability
Define and create withdrawal templates to plan and automate common types of recalls and stock withdrawals.
​
Today, it's not possible for product safety leaders to know every step a product has taken along the supply chain - it's a critical business imperative. At Originscale, we partner with leading brands to implement traceability throughout the supply chain. To showcase the intricacy and granularity in end to end traceability, we created a summary of two possible journeys one of the most popular produce items could take: that of the vitamin gummies.
​
Download the infographic view:
​
Supply chain complexity from source to distribution and beyond, as ingredients become vitamin gummies.

Critical Tracking Events throughout the product journey, from transformation events to point-of-sale.

How you can use traceability software like Originscale to track every point in a product's journey.
Learn more about our approach to traceability.
See how originscale can help you optimize your operations, reduce cost, and retain more customers.
Fill in the form to request a demo of the Originscale digital platform. Our team will be in touch within one business day.