Drive Growth, go Direct-2-anywhere!
Go direct, leverage more channels, build omnichannel experiences, sell more, discover new customers, and expand your reach.
Move beyond manufacturing & go-direct to consumers where they are!
Unified Manufacturing & Sales
Run unified manufacturing & sales operations with ease by leveraging the power of Originscale. Get end-to-end visibility across manufacturing & sales so you know what to produce, when to produce, how much to produce without any silos.
Go Direct-2-anywhere!
Sell direct, seamlessly across channels, and manage operations in one single place. Originscale integrates with multiple channels and provides a single-window to your sales irrespective of channels.
Data-driven Insights
Know exactly how each channel is performing and recommendations on what you need to do to save money and derive more profits. Compare channels, look at historical data, take actions in seconds!
Don't put all your eggs in one basket, grow your business beyond a single channel.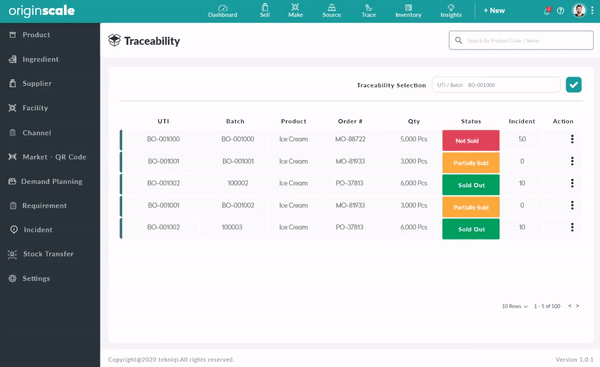 Multi-channel
Leverage our expertise
Add new channels with ease via out of the box integrations with channels like Shopify and others. We continue to add channels almost every month.
Whether you're expanding into wholesale, physical retail, or marketplaces, tap into our expertise in helping other brands do the same.
Compare Channels
See how these channels perform and compare to each other. Track them down in real-time and manage your KPIs effectively.
Grow the business without undue reliance on individual channels; reduce the friction associated with new channels and new platforms.
Add channels with ease
Easily add new channels via over a dozen integrations. Originscale channel and store inventory control support and maintains your channels so you don't have to.
Run a lean operation
Visibility into your inventory means the ability to run a tight and lean operation and free up valuable cash flow tied up in inventory.
Compare channel performance
See how each channels performs in the context of the overall business, measured over time.
Originscales multichannel selling software module helps brands boost the sales potential of their inventory management, easily test new lines of business, and avoid the pitfalls of managing sales across multiple platforms and locations.
See how originscale can help you optimize your operations, reduce cost, and retain more customers.
Fill in the form to request a demo of the Originscale digital platform. Our team will be in touch within one business day.