Don't assume: make data-driven decisions
Run faster, smarter operations with help from dozens of easy-to-use intelligent reports.
Empower your teams with accurate information at speed: get actionable insights
Drive unified decisions
Break down organizational silos to quickly gain detailed retail reporting from inventory, sales, and purchasing data.
Break silos and eliminate bottlenecks
Boost productivity, close the books faster, and equip team members with the insights they need to push the business forward, whether it's through financial reporting.
Visualize
View and communicate insights at a glance with the help of in-app charts and a graphical reporting dashboard.
Let data drive strategy: know exactly how is business doing and what you need to do next
​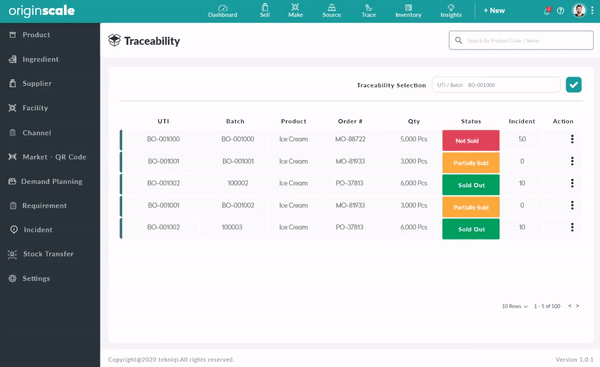 Deep insights
Get easy access to precise, actionable data on cost, revenue, and profitability through comprehensive multichannel inventory management reporting, retail reporting, and product reporting.
Get Intelligent
Review historical data to see when stock changed — and why. Analyze past performance to identify trends and future opportunities, such as understanding an aged inventory report.
Analyze with ease
Drill down from one level of data to the next; filter retail reports to a specific store or stock location; group data by a number of different measures.
Know your best (and worst) performing products, variants, product categories, customers, and channels.
See how items are moving via sales velocity, sell-through, aged inventory report, and other inventory analytics.
Identify your top customers by revenue, units sold, lifetime value, and reorder rate - plus most purchased items by the customer.
View detailed cost information for items that have shipped from sales orders, with filtering and grouping options for easy analysis.
Measure the performance of each supplier: Compare expected and actual ship dates, arrival dates, and units received.
View detailed cost information for items that have shipped from sales orders, with filtering and grouping options for easy analysis.
Account for inventory movement across your organization, segment by location, product category, and product.
See how items sold individually and compare side by side with units sold as part of a bundle.
Supplier relations in a one-stop reporting dashboard. At a quick glance, see exactly which suppliers have expired documentation, failed audits or which suppliers have the most quality incidents.
Get real-time snapshots, historical logs, reorder points, awaiting inventory, and more - viewed in aggregate or per location.
View dynamic reorder points and suggested reorder quantities based on sales velocity and self-defined planning timelines.
Certificate & documents dashboard
The Documents dashboard helps optimize efficiency for information management, certify provenance, and ensure authenticity.
Reduce inventory risk:
Know exactly what's selling and what's not!
Know the value of your inventory
Segment balance sheet info by location, product category, and product. View a real-time snapshot of reporting or analyze over a specific time period.
Improve cash flow
Manage your cash flow effectively by keeping channels stocked while carrying less inventory.
Plan for demand
Inform your planning process using category-based sales and inventory reporting.
Top 10 KPIs for managing your direct to anywhere business!
​
Key performance indicators are like milestones on the road to online retail success. Monitoring them will help Direct 2 consumer entrepreneurs identify progress towards sales, marketing, and customer service goals.
​
KPIs should be chosen and monitored depending on your unique business goals. Certain KPIs support some goals while they're irrelevant to others. With the idea that KPIs should differ based on the foal being measured, it's possible to consider a set of common performance indicators for D2C business.
Learn more about to Direct to consumer KPIs by Originscale
See how originscale can help you optimize your operations, reduce cost, and retain more customers.
Fill in the form to request a demo of the Originscale digital platform. Our team will be in touch within one business day.