Take charge of your inventory across multichannels!
Originscale offers a best-in-class inventory control solution that seamlessly integrates across your channels and locations giving your 360-degree view and full context.

Multi-channel Inventory Control
With Originscale, you get a unified, real-time view of stock levels and inventory performance across your manufacturing & sales channels and locations.
Raw Material & Finished Products
Originscale manages both manufacturing and sales inventory that includes raw materials and finished products. Give your team insights into what's in stock, how much is on the way as well as when it's expected to arrive.
Make a Smart Purchase
With end-to-end insights under your belt, you know how much inventory you have across the board and at each of your locations, you can purchase and replenishment more smartly.
Sell like a king!
Turn inventory faster, maintain higher margins, and reduce manual inventory-related tasks so you can sell better and faster.
Make faster, more confident purchasing decisions with the best inventory software by Originscale.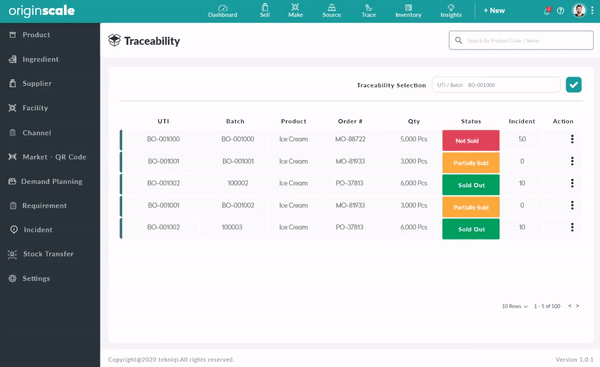 Exactly know when to sell
With a unified view of Sales and Manufacturing, Originscale exactly knows how much inventory is expected and when to sell against it and ensures a healthy cash flow.
Automate: Order Bots
Originscale Inventory bots can automatically take care of your replenishment needs as it knows exactly what to order and when to order.
Manage end to end purchasing
Navigate your entire purchase process—from planning to shipment, arrival, receipt, and close—with easy access to related info and important context.
Avoid costly overselling and stockouts with automated stock sync, low-stock alerts, and stock visibility across locations.
Auto-sync inventory
When sales affect shared inventory, Originscale inventory management system automatically updates inventory on other channels—reducing the risk of overselling.
Stay ahead of stockouts
Use low-stock alerts to proactively monitor stock levels and resupply locations before they run out.
Sell across locations
When items are out of stock in one location, easily check availability at others to assist your customer and make the sale.
Lean Inventory: Trimming the Fat from Your Manufacturing
Lean inventory is an essential method for reducing costs and improving how you manage your business. We investigate lean inventory and how to make it work.
Avoid overselling and backorders
Real-time inventory syncs for your sales channels and dynamic reorder points prevent costly backorders and overselling issues.
Leverage creative merchandising techniques like bundles, mystery boxes, pre-orders, and loyalty programs with powerful inventory and order management capabilities.
Pop-ups? Events? New online channels, or retail locations? No problem. You can control inventory anywhere with Originscale. Automatically sync inventory from all of your locations to provide you with the visibility and control you need to run your business.
See how originscale can help you optimize your operations, reduce cost, and retain more customers.
Fill in the form to request a demo of the Originscale digital platform. Our team will be in touch within one business day.